Exploring the skilled trades and technologies...

Take a look at what Skills Ontario can offer your students!
---
Announcing the Skills Ontario Alumni Association
Skills Ontario wants to support and enrich the professional and personal lives of Skills Ontario Alumni. The Skills Ontario Alumni Association celebrates alumni stories and successes, and allows alumni to network and come together. If you are a Skills Ontario alumna or alumnus who has competed in the Skills Ontario Competition, we look forward to hearing from you!
Learn More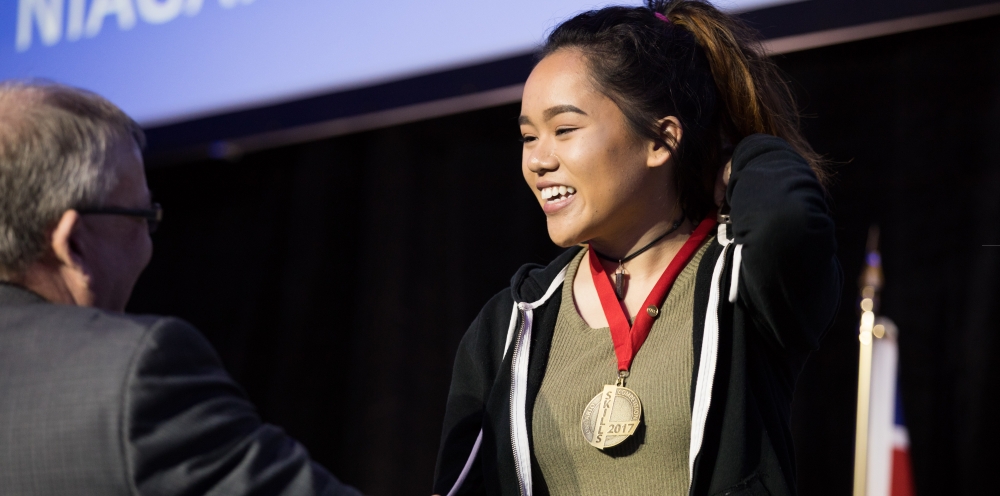 ---
Shop Skills Ontario
The Skills Ontario Alumni Association is working with youwear.ca to show what "Skills" look like! We have some of the latest styles, including hoodies, tees, hats, and more! Purchase one today and show your pride in Skills Ontario!
---
Support Skills Ontario
We work hard to inspire youth across Ontario to explore their career options each year. If you like our mission, programs and events please consider donating. Every little bit helps! Thank you!
(tax receipts are provided for donations over $20)
Results of the 2018 Skills Ontario Competition
Phenomenal talent and skill was on display at the 29th annual Skills Ontario Competition held at the Toronto Congress Centre, May 7-9, 2018
Skills Ontario and Magna International Grow Partnership For Skill Development Programs
Magna's investment will support the growth of the Skills Ontario Competition and other initiatives
Three winners selected in Community Involvement Projects
Skills Ontario is delighted to announce this year's winners in our landscaping, construction, and manufacturing community involvement initiatives. Congratulations to this year's winners!
Skills Ontario and partners support skill development and mentorship for Indigenous students at First Nations, Métis, and Inuit Student Conference
On Tuesday, May 8, 150 Indigenous students will take part in a day of skilled trades and technologies career exploration and mentorship