Exploring the skilled trades and technologies...
Take a look at what Skills Ontario can offer your students!
---
Announcing the Skills Ontario Alumni Association
Skills Ontario wants to support and enrich the professional and personal lives of Skills Ontario Alumni. The Skills Ontario Alumni Association celebrates alumni stories and successes, and allows alumni to network and come together. If you are a Skills Ontario alumna or alumnus who has competed in the Skills Ontario Competition, we look forward to hearing from you!
Learn More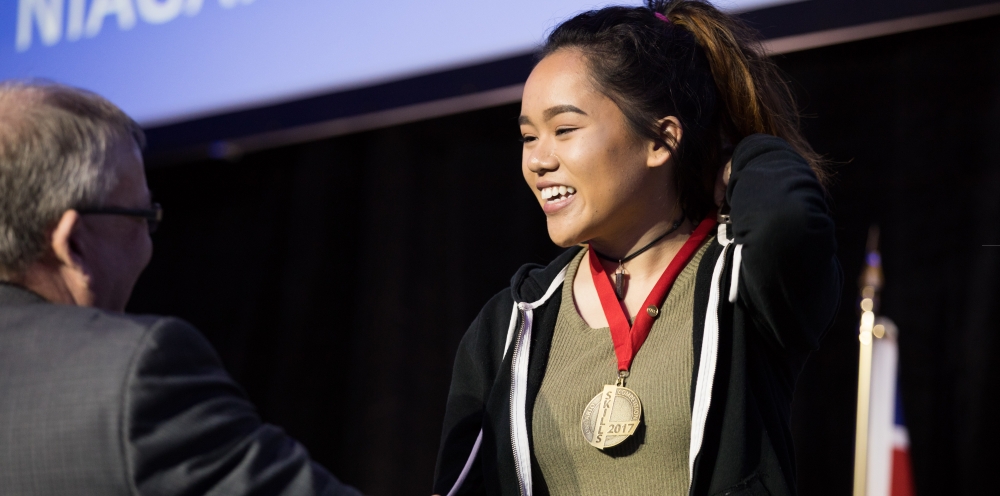 ---
Shop Skills Ontario
The Skills Ontario Alumni Association is working with youwear.ca to show what "Skills" look like! We have some of the latest styles, including hoodies, tees, hats, and more! Purchase one today and show your pride in Skills Ontario!
---
Support Skills Ontario
We work hard to inspire youth across Ontario to explore their career options each year. If you like our mission, programs and events please consider donating. Every little bit helps! Thank you!
(tax receipts are provided for donations over $20)
Skills Ontario builds education, support, and skill in trades and tech for young women
Skills Ontario Career Exploration Events connect education, hands-on experience, and mentorship for female students in grades 7 to 12
Skills Ontario Cardboard Boat Races connect education, hands-on experience, and employability skills
Students in grades seven to 12 from across Ontario may be sailing their way to a career in the skilled trades and technologies.
Job Talks Videos Highlight Skills Ontario Alumni and Volunteers
Skills Ontario is proud to partner with Job Talks on a series of videos to promote careers in the skilled trades and technologies.

Each video in the series focuses on a specific trade area and features interviews with tradespeople to showcase the wide range of career possibilities open in the skilled trades and technologies in Ontario, including careers in management and training.
Join Skills Ontario in cheering on WorldSkills Team Canada 2017!
Competitors from over 60 countries will converge on Abu Dhabi, UAE, later this month from October 15-18 for the 44th annual WorldSkills Competition. Every two years, top competitors at the Skills Canada National Competition (SCNC) are selected for Team Canada to compete at the WorldSkills Competition against the best of their peers from around the world!