Exploring the skilled trades and technologies...
Take a look at what Skills Ontario can offer your students!
---
Announcing the Skills Ontario Alumni Association
Skills Ontario wants to support and enrich the professional and personal lives of Skills Ontario Alumni. The Skills Ontario Alumni Association celebrates alumni stories and successes, and allows alumni to network and come together. If you are a Skills Ontario alumna or alumnus who has competed in the Skills Ontario Competition, we look forward to hearing from you!
Learn More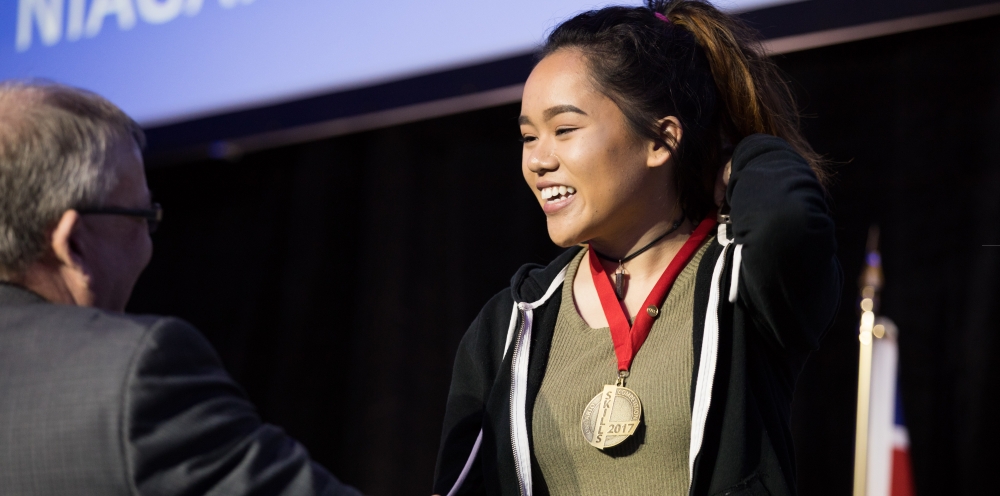 ---
Shop Skills Ontario
The Skills Ontario Alumni Association is working with youwear.ca to show what "Skills" look like! We have some of the latest styles, including hoodies, tees, hats, and more! Purchase one today and show your pride in Skills Ontario!
---
Support Skills Ontario
We work hard to inspire youth across Ontario to explore their career options each year. If you like our mission, programs and events please consider donating. Every little bit helps! Thank you!
(tax receipts are provided for donations over $20)
Sponsor Feature: Opportunities at Loyalist College
Loyalist College is Ontario's destination College, known as a deliberate choice of students and community for quality programs, student engagement and applied research, enabled by a creative, innovative and supportive organizational and learning culture. Our more than 65 full-time programs and apprenticeships take students through a fully experiential learning environment with community engagement and hands-on opportunities to drive students to their personal career destination.
Students vie for spots at Skills Ontario Competition
Seven colleges to host Qualifying Competitions on Saturday, April 7, 2018
Winners crowned at Cardboard Boat Race Championships
Skills Ontario's Cardboard Boat Race Championships saw 57 teams face off over the span of two days at the Waterloo Memorial Recreation Complex. Sponsored by 3M and Cascades, Skills Ontario Cardboard Boat Races connect education, hands-on experience, and employability skills.
Skills Ontario and partners build momentum for young women in trades and tech
Skills Ontario Young Women's Initiatives connect education, hands-on experience, and mentorship for female students in grades 7 to 12.