Exploring the skilled trades and technologies...

Take a look at what Skills Ontario can offer your students!
---
Announcing the Skills Ontario Alumni Association
Skills Ontario wants to support and enrich the professional and personal lives of Skills Ontario Alumni. The Skills Ontario Alumni Association celebrates alumni stories and successes, and allows alumni to network and come together. If you are a Skills Ontario alumna or alumnus who has competed in the Skills Ontario Competition, we look forward to hearing from you!
Learn More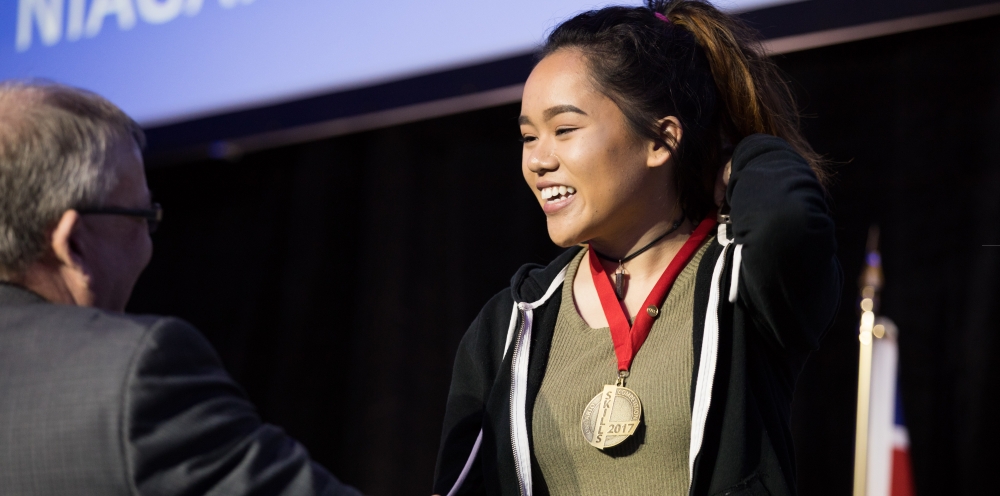 ---
Shop Skills Ontario
The Skills Ontario Alumni Association is working with youwear.ca to show what "Skills" look like! We have some of the latest styles, including hoodies, tees, hats, and more! Purchase one today and show your pride in Skills Ontario!
---
Support Skills Ontario
We work hard to inspire youth across Ontario to explore their career options each year. If you like our mission, programs and events please consider donating. Every little bit helps! Thank you!
(tax receipts are provided for donations over $20)
Heads of Technology (HOT), Skills Ontario and OACETT partner on online course for technology careers
Heads of Technology (HOT), Skills Ontario and the Ontario Association of Certified Engineering Technicians and Technologists (OACETT) have launched a brand new interactive online course to educate Ontario youth about the opportunities for amazing careers in technology in Ontario.
Skills Ontario has nearly 200 volunteer mentors across the province, and each volunteer brings a vital voice to the advancement of young women entering skilled trades and technology careers.
Cameron McLean started volunteering with Skills Ontario as an Event Marshal for the Skills Ontario Competition last year – where he "was a real trooper," adds Maresa MacAskill, our Director of Competitions. Cameron continued volunteering over the summer as a workshop leader at the Skills Ontario Summer Camp at Loyalist College.
Thank you Shane & Carlijn
Shane and Carlijn Kennedy are dedicated volunteers who use their own vacation time to help with the set up and tear down of the Skills Ontario Competition for the last several years.