Skills Ontario Alumni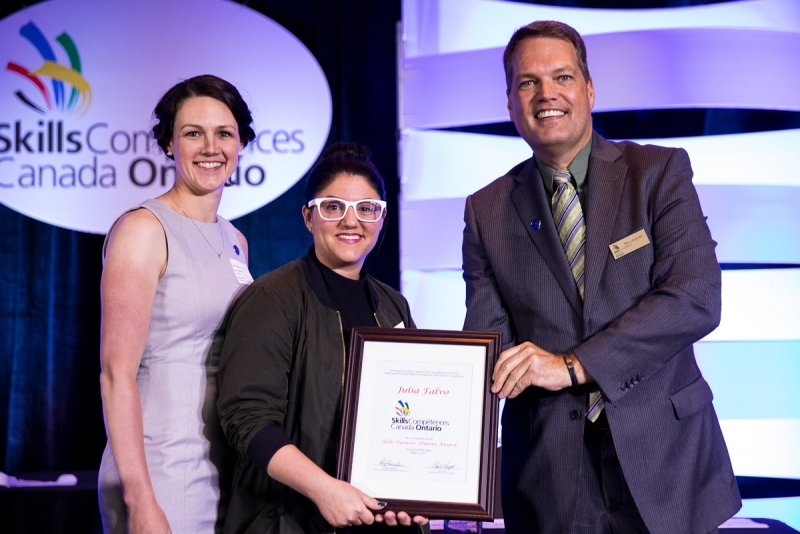 Alumni Volunteering Opportunities
---
About
Skills Ontario wants to support and enrich the professional and personal lives of Skills Ontario Alumni. The Skills Ontario Alumni Association celebrates alumni stories and successes, and allows alumni to network and come together.
Through the Association, the accomplishments of Skills Ontario Alumni are showcased and recognized, and alumni have the opportunity to share their expertise and experience with students across Ontario. Skills Ontario Alumni represent a vast pool of knowledge and talent, and have accomplished amazing things in their lives, whether it's in the field they competed in, or if their Skills Ontario experience has positively affected another aspect of their success.
Many alumni continue to be involved with and support Skills Ontario, and we are proud of their achievements and important contributions. If you are a Skills Ontario alumna or alumnus who has competed in the Skills Ontario Competition, we look forward to hearing from you too! Please join the Skills Ontario Alumni Association and get involved!
---
Skills Ontario Alumni Committee
---
Meet Skills Ontario Alumni
Automotive Service Technician
Cella General Repairs

NDT Technician
Applus RTD

Design Specialist
Manulife

Project Coordinator
Architectural Firm

Business Owner
Artline Salon

VP & General Manager
Promation Nuclear Ltd.

Insurance Claim Agent
Desjardins Insurance Group

Woodworking Instructor
Katarowki Aboriginal School

If you would like to be a featured Alumni, please contact info@skillsontario.com.
---
Join the Association
By joining the Skills Ontario Alumni Association, you will be a part of a dynamic community of Skills Ontario Alumni who want to connect and network with peers, and support the skill development of youth across Ontario.
Your membership in the Skills Ontario Alumni Association includes:
Invitation to the Skills Ontario Alumni Events
Invitation to Skills Ontario Appreciation Evening (networking and theatre night)
Access to the Skills Ontario Alumni Newsletter (sent 5 times per year)
Being a part of the "Skills" community and sharing your story!
As the Skills Ontario Alumni Association grows, we look forward to being able to provide even more member benefits.
Register for the Skills Ontario Alumni Association
Skills Ontario Alumni Association on LinkedIn
---
Alumni Volunteering Opportunities
Volunteering opportunities specific to Skills Ontario Alumni include:
In-School Presentation Guest Speaker
Cardboard Boat Races
Skills Ontario Competition
Young Women's Initiatives Mentor/Speaker
First Nations, Métis, and Inuit Initiatives Mentor/Speaker
Summer Camp Workshop Leader
Volunteer 'Skills Ambassadors'
Skills Ontario Alumni have unique personal stories about how the Skills Ontario Competition has helped them achieve success in their lives, by building confidence and pushing their skills to another level. Seeing Skills Ontario competitors succeed is why Skills Ontario supporters (including alumni!) stay involved and grow the reach of Skills Ontario programs each year!
Skills Ontario invites alumni to volunteer with us at our annual Appreciation Evening as 'Skills Ambassadors,' on Thursday, December 7, from 6pm to 10pm. This is a theatre night for Skills Ontario to celebrate and show appreciation to sponsors and volunteers. There will be an hour-long reception (6-7pm) where 'Skills Ambassadors' are encouraged to mingle and represent stories of alumni success. Following the reception, all guests and volunteers will enjoy a live stage performance of Beauty and the Beast.
For more information and to sign up as a 'Skills Ambassador' volunteer, please email Jenn Green, President of the Skills Ontario Alumni Association at skillsontarioalumni@gmail.com. We are seeking a maximum of 20 volunteers, who will receive complimentary tickets for themselves and a guest to the evening's performance of Beauty and the Beast.
All Skills Ontario Volunteer Opportunities

---
Skills Ontario Alumni Dinner
Every other year, Skills Ontario invites former Competitors to enjoy a night of fun, recognition, and reminiscing!
Come and share your memories of competing at the Skills Ontario Competition and how your experience as a competitor contributed to where you are now. Reunite with your fellow medalists while enjoying dinner, panel speakers with their success stories and trying to find yourself within our photo and video presentations.
Stay tuned for details on the next Skills Ontario Alumni Dinner: May 6, 2019 at the Toronto Congress Centre
---
Skills Ontario Alumni Award
Julia Falvo is the 2017 Alumni Award recipient!
The Skills Ontario Alumni Award recognizes a medalist from the Skills Ontario Competition, Skills Canada National Competition, or WorldSkills Competition who is a dedicated advocate of the Skills Ontario Competition experience. Nomination deadline is March 23, 2018.
---

Skills Ontario Gear
This is what Skills look like. Refresh your wardrobe with the latest apparel.
The Skills Ontario Alumni Association is working with youwear.ca to show what "Skills" look like!
We have some of the latest styles, including hoodies, tees, hats, and more! Apparel can be customized to have the name of your competition and/or your own name on it.
Purchase one today and show your pride in Skills Ontario!
---