Skills Ontario Summer Camp
Exploring Careers in Skilled Trades and Technologies, One Hands-on Activity at a Time
Thank you to our Skills Ontario Summer Camp Sponsors:


This program is funded by the Government of Ontario.
---
About
Skills Ontario is pleased to offer our Summer Camps virtually!
Through this program, campers will be led through fun skilled trade and tech-related activities and virtual tours by Skills Ontario staff and volunteers/partners.
Over seven weeks, students entering grades 7, 8, and 9 all across the province can select and participate in skilled trade and technology workshops that interest them.
With 191 experiential learning sessions across 32 different subjects, students are encouraged to sign up for multiple activities, workshops, presentations, and panels that pique their interest.
If you are interested in camps for French-speaking students, please contact mlinklater@skillsontario.com.


---
Dates & Registration
Camps will run from July 6th to August 21st. Click any activity below to go directly to its registration page!


---
Volunteer Opportunities
The Skills Ontario Summer Camp workshops and tours are hosted by volunteer industry professionals. If you are qualified in an area of the skilled trades or technologies and would like to offer your support of this program by leading a virtual workshop or tour of your business, please contact the Camp Manager by email (mlinklater@skillsontario.com).
If you would like to support the camp by volunteering alongside our camp staff, please contact the Camp Manager by email (mlinklater@skillsontario.com).


---
Tech Support
If you are experiencing issues accessing a virtual activity you registered for, please read the guidelines below.
If you are 'locked out' of Eventbrite, you will need to reset your Eventbrite password. Visit this page to do so.


If the page is saying the content you are trying to view is 'locked content', this means you are not signed into the correct Eventbrite account or are accessing the online event page from an unconfirmed source. Only those who have registered for our workshops will be able to login and see their link. You must sign into the correct account if you've used an account, or click the button in Skills Ontario's reminder emails/initial confirmation email. That email looks like the screenshot below. You will need to press the orange button.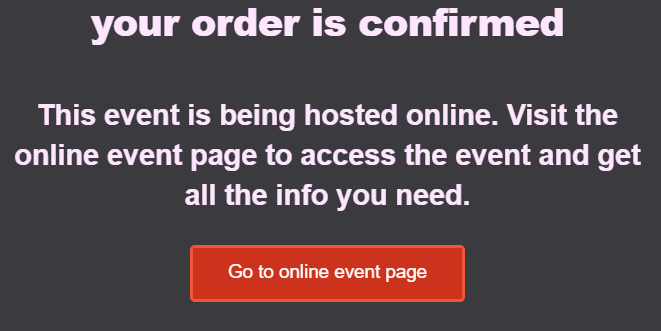 If you cannot find your Google Meets link, please check your email folders (inbox, junk, other folders) for an email from Eventbrite. If you have the email and your Eventbrite login info, you should be able to join us. The email looks like the screenshot below. We advise you to use the search function for some keywords, as it'll help narrow it down.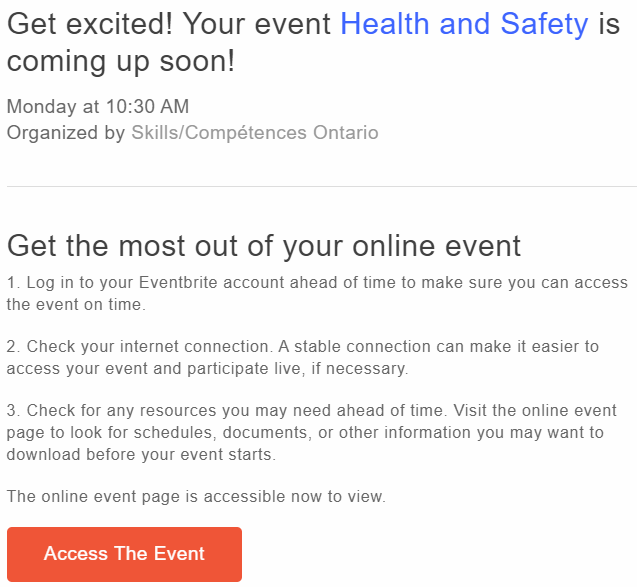 If you are having any technical issues that are not listed above, please contact the Camp Manager by email (mlinklater@skillsontario.com).