International Day of the Girl
"Our time is now—our rights, our future."
October 11, annually
International Day of the Girl is "a day dedicated to celebrating the voices and power of girls, championing their rights worldwide, and reflecting on the challenges they continue to face because of their gender." (Source) Every year, Skills Ontario celebrates the International Day of the Girl to recognize and inspire girls ages 10-13 across the province to build their skills, conquer boundaries, and explore their pathways. Join us for the Skills Ontario International Day of the Girl Celebration this year – we're hosting an in-person event and a virtual celebration! Post about your attendance on social media by tagging us at @SkillsOntario and @SkillsYWI and using hashtag #SkillsIDG2022!
Thank you to our Young Women's Initiatives Partners:



This Employment Ontario program is funded in part by
the Government of Canada and the Government of Ontario.




---
---
In-Person Celebration - "For Girls, By Girls" Conference
One ticket costs $25.00. This event is ideal for girls in grades 6-8.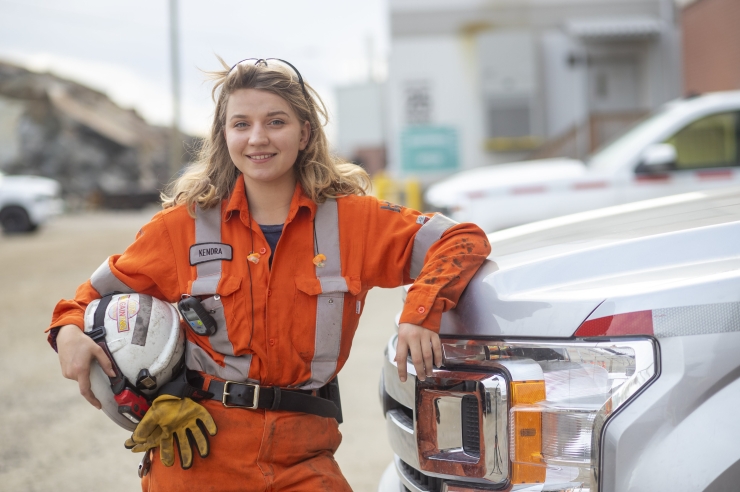 Our "For Girls, by Girls" Conference is designed to celebrate girls! This event provides participants with the opportunity to hear from girls in senior elementary discussing their perspectives of how they perceive the skilled trades and technologies, what they want to be when they grow up and why, their favourite tool, and what interests them! Discussions are led by women in the skilled trades.
Our main "International Day of the Girl" Celebration Event will take place on Tuesday, October 11, 2022, running from 9:30am to 2:00pm at Science North, located at 100 Ramsey Lake Rd in Greater Sudbury, Ontario.

We are excited to announce Kendra Liinamaa (pictured) as our keynote speaker for this year's event! Kendra never imagined herself pursuing trades when she was in high school. She took both the automotive and welding classes through high school but it had never dawned on her that women could pursue a career in trades. When her welding teacher told her she should become a welder, she remembers saying "who would hire a little girl to do a man's job?" she had never seen a women in trades before, and didn't yet see the benefit to having diversity in body types and personalities in trades. After high school, she went on to work at a sign shop, where she realized she could do a lot of the same work men did by modifying how she did it to suit her body type. From fabrication to applying vinyl wraps, it was the constantly moving and busy environment that made her realize she loves working in a shop. That summer, she applied for the millwright program at Cambrian College after hearing that it was the jack of all trades. She loved college, the teachers, her peers and especially the competitive environment her fellow students created! After her first year of college, Kendra applied for a bursary through Cambrian College which she was awarded with. She was thrilled that this bursary also came with the opportunity to start her apprenticeship at City Welding as a millwright. This generosity encouraged her to take her first step as a public speaker, and she delivered a thank you speech to the many donnors and bursary recipients from that year. She then worked full-time all summer and continued to work at City Welding part time and Cambrian College during her final school year. Afterwards, she continued to speak on behalf of Cambrian College as a women in trades rep and went on to continue her apprenticeship at Vale, starting with a Co-op at North mine, and then being signed as an apprentice with Vale and working at the Copper cliff nickel refinery, and now Coleman Mine. She hopes to try and see as much as Vale has to offer as she continues to work for Vale.


Agenda
| | |
| --- | --- |
| 9:30 | Registration Opens |
| 10:00 | Welcoming Remarks |
| 10:40 | Break [10 minutes] |
| 10:50 | Workshop #1 |
| 11:35 | Brunch |
| 12:10 | Workshop #2 |
| 1:00 | Workshop #3 |
| 1:45 | Event Wrap-up |

This event will provide young women with an opportunity to:
hear from a women in trades (her experiences, her journey, what she does and how/why she chose that career);
participate in hands-on workshops to learn about skilled trades careers while learning about the various skills used in those careers and;
learn about International Day of the Girl and its importance.
**Young women will have the opportunity to select up to three workshops (more workshops will be added as they are confirmed):
Boombox Kit Build, hosted by Skills Ontario (English)
Exploring the Skills Ontario Trade and Tech Truck (Bilingual)
Tools 101, hosted by Milwaukee Tool (English): Showcasing our latest Milwaukee innovation from our hand tools to our power tools including our safety products. We will demo a few core trades tools within our M12 and M18 lineup.
VEX Code VR (bilingual), hosted by Michael Frankfort
Electrical Bugs (Francophone), hosted by College Boreal: Come and learn the basics of electric currents by using your imagination to make an insect using a clothespin, small lights, a battery, wires, and paper clips! (Francophone offering only)
Workshop hosted by Science North (Francophone)
Virtual Celebration
Participation in our virtual series is free.


*NEW* "Sit Down" with Plumber Paige
This virtual event will premiere on YouTube on Tuesday, October 11 at 10:00 am. This event is ideal for students in grades 5-8. Co-ed welcome!

We are pleased to offer a new virtual series dedicated to sitting down with a passionate tradeswoman to learn about their journey in the industry. During this one-on-one sit down, we will:
Introduce young women to a select skilled trade and technology career;
Discuss why we should encourage young women to consider a career in the skilled trades;
Discuss how to be an advocate and ally for women in the skilled trades.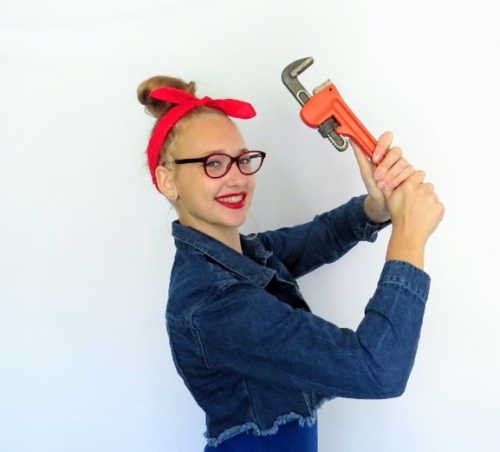 Meet Paige: Paige Knowles is a trades advocate and public speaker, as well as a new business owner. Since graduating from the plumbing and heating lab in high school, she has enrolled in a local community college for construction management. Her goal is to end the stigma around the construction industry and get more people to consider a career in the skilled trades. She does this by creating books like "Plumber Paige - Let's Replace a Shower Head" and "Plumber Paige - Let's Fix a Running Toilet" to tell students that they can do jobs in their own homes. You can follow Paige and her story on social media platforms (Instagram, Tik Tok, YouTube, Facebook, Twitter, LinkedIn) @plumber_paige
Check out Plumber Paige's books!
Challenge Series
This event is ideal for students in grades 6-8. Co-ed welcome!

This challenge series will run from September 21 to October 11. Students will have the opportunity to submit their completed challenge(s) to Twitter tagging @SkillsOntario and @SkillsYWI OR emailing their submissions directly to lchester@skillsontario.com. All submissions will be due by Tuesday, October 11 at 4:30pm, with the exception of the Robotics Challenge.
Skills Ontario is challenging youth to try out activities relating to the five skilled trade and technology sectors!
Our virtual challenge series is designed to introduce students to the various skilled trades and technology careers that are offered. Through each challenge, students will have the opportunity to discover a select skilled trade career, learn about women in the industry, and tackle some of the skills, techniques and transferable skills required for the day-to-day tasks of a skilled trades career. Students can choose to participate in one or all of the challenges. Please note, each challenge is self-led. Scopes are linked below.


Technology: VEX Code VR [please see VEX Code VR Tutorial & Workshop for more details]


VEX Code VR Tutorial & Workshop
Tuesday, October 11, on-demand. This event is ideal for students in grades 6-8. Co-ed welcome!
Students will have the opportunity to access a virtual tutorial for VEX Code VR. This tutorial will be available on-demand starting October 11 and will be available in English and French. Following the tutorial, students are encouraged to participate in a virtual challenge for a chance to win prizes! Challenge scopes to follow.


If you have any questions, please contact Lindsay at lchester@skillsontario.com.