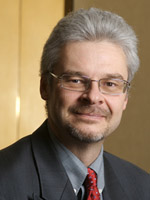 Hello!
I am thrilled to introduce myself as the incoming CEO of Skills Ontario. Monday was my first day on the job and I am eager to start leading the Skills Ontario team to help further build the momentum that is already underway for our many skill development and career exploration programs, including the 2018 Skills Ontario Competition this May 7, 8, and 9 in the GTA.
Skills Ontario is a strong organization with a clear mission to educate and inspire tomorrow's workforce about the opportunities in skilled trades and technologies careers in Ontario. I am very familiar with the important work of Skills Ontario, having served as a Board Member in the past, and then Board President from 2004 to 2006.
Prior to starting as CEO of Skills Ontario, I headed CME's Provincial Operations and Corporate Counsel as Senior Vice President, and led several strategic initiatives to improve and support the health and safety, diversity, and workforce training in the manufacturing and industrial sectors. I've always had a strong interest in building skill development initiatives across the province, and I'm very honoured to take on the position of CEO of Skills Ontario.
It is an amazing feeling to be able to offer my knowledge and appreciation of skilled trades and technologies, health and safety, and working with government and industry to Skills Ontario, a vital organization for Ontario. I look forward to working closely with you, the Skills Ontario stakeholders and investors, to strengthen and support the opportunities for the next generation of skilled trade and technology professionals in our province.
I'd love to hear from you, so don't hesitate reach out.
Sincerely,
Ian Howcroft
CEO, Skills Ontario
ihowcroft@skillsontario.com
519-749-9899 x 229