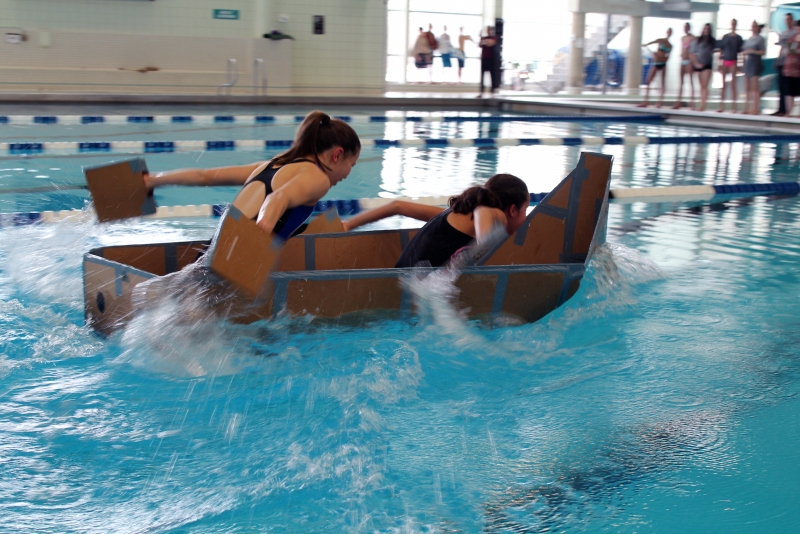 Students in grades seven to 12 from across Ontario may be sailing their way to a career in the skilled trades and technologies. Skills Ontario Cardboard Boat Races seek to introduce students to skills such as construction and building, planning and design, teamwork, and workplace safety that are required for the highly-skilled workforce in Ontario today and in the future.
Sponsored by 3M and Norampac Cascades, Skills Ontario Cardboard Boat Races draw over 1800 competitors in 14 cities from 250 schools in Ontario each year.
The premise is simple: teams of four are provided all the necessary materials to build a boat in just two hours. Students must bring their problem-solving, teamwork, and design skills as they create a seaworthy structure out of two sheets of 4' by 8' corrugated cardboard and some duct tape. Students are judged on construction, speed, weight, and team spirit categories. Meanwhile, video teams work to capture the best footage for their video submissions for the video challenge.
Winners at each race qualify to compete against youth across Ontario in the Cardboard Boat Race Championships in Waterloo, March 6th (Secondary) & 7th (Elementary). Will this year's group of students break the all-time provincial records?
Quote
"The Cardboard Boat Races are such a simple and fun way to bring skills development and career awareness to students across Ontario," says Solange Saraiva, programming lead for Cardboard Boat Races at Skills Ontario. "The competitive thrill of designing and building a cardboard boat that will float and hold shocking amount of weight keeps bringing teams back year after year to these events."
Associated Links
VIDEO: Skills Ontario Cardboard Boat Races
VIDEO:Rick Mercer at the 2014-15 Cardboard Boat Race Championships