Scopes: Skills Ontario Competition - Secondary
Contest scopes are provided to give teachers and competitors an outline of what each specific contest entails. All scopes for the current competition year should be posted before the end of January, but if the scope you are looking for is not posted yet, you may review "Past Scopes" as a starting point to, at least, give you an idea of what is involved.
Scopes are the main resource required to prepare for your contest, so it is very important that you review your contest scope carefully in advance of the competition. The contest scopes include the following information:
Date and location of your contest
Agenda for your contest
Tools supplied and tools you need to bring with you
Skills required to be successful in the contest
Please ensure you are reviewing the scope for the correct level of participation - the cover page of your scope will indicate if it is the Secondary or Post-Secondary scope.
Contests with an asterisk (*) behind the name require you to first participate in a Qualifying Competition. The qualifying level of these competitions has a different scope that you will need to review HERE.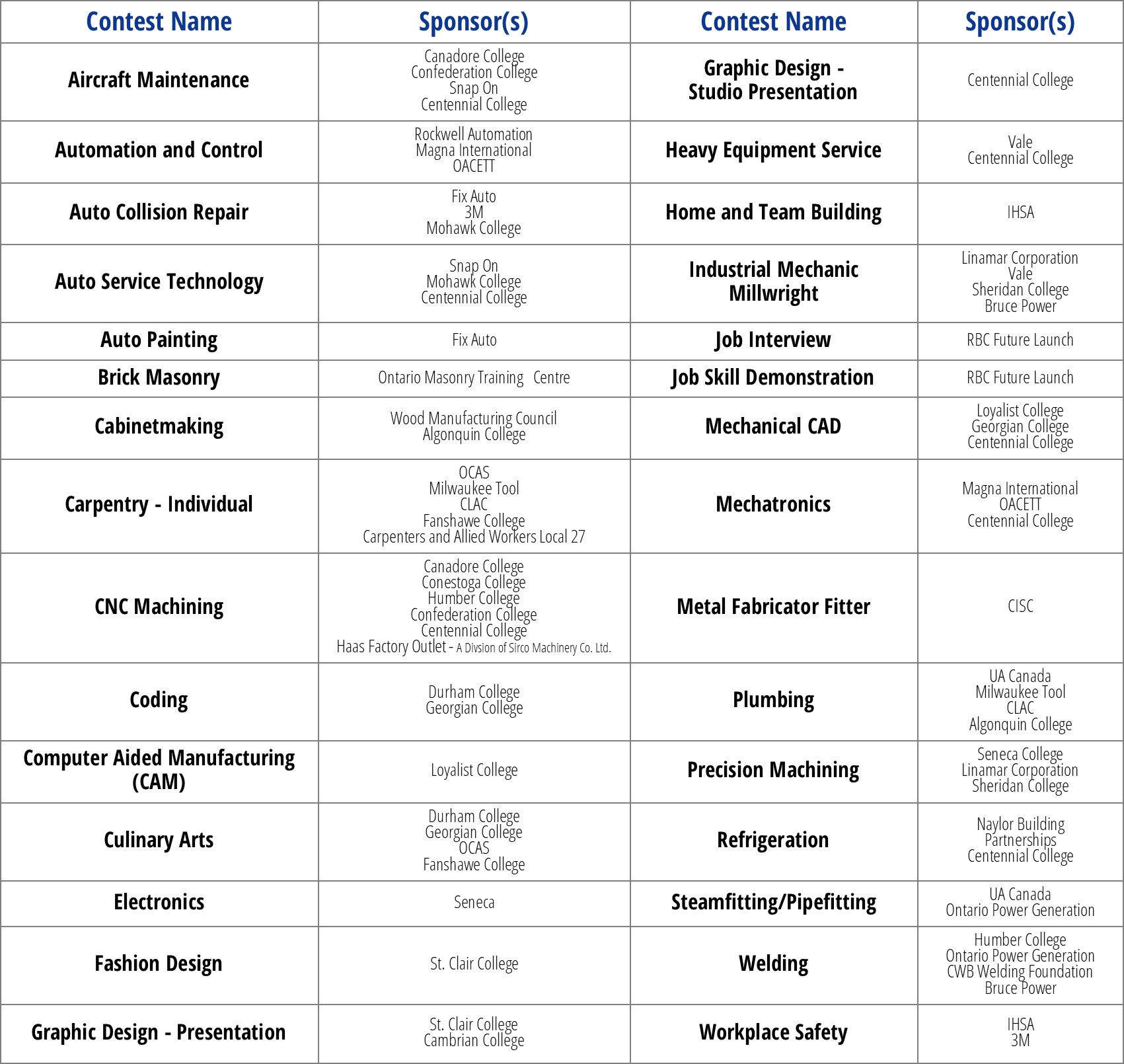 Additional Contests Offered:
Pin & Medal Design Contests
Please click HERE for more information.
Please take note of the "Last Updated" date to ensure you have reviewed the most recent version of the scope. Please also note that we cannot post scopes until the National-level scope has been posted.
All contests require an online submission of the Competitor Safety Checklist following the end of their contest (or with their project if the contest has an Online Submission). This is mandatory, no matter the contest and no matter the location in which the competitor is competing from. If this is NOT submitted, the competitor will be disqualified and not judged for their project.
You can download the Safety Checklist here.


Contest
Original Post Date
Last Updated
2D Character Animation
- Story Breakdown Panel
- Character Posing Examples and Resources

Jan 29, 2021
Apr 29, 2021
3D Character Animation
- Story Breakdown Panel
- Character Posing Examples and Resources

Jan 29, 2021
Apr 29, 2021
Architectural Technology and Design

Jan 29, 2021
Apr 28, 2021
Auto Collision Repair
- Sectioning Project Drawing 1
- Sectioning Project Drawing 2

Jan 28, 2021
Apr 12, 2021
Auto Painting

Jan 29, 2021
Jan 29, 2021
Automotive Service Technology

Feb 16, 2021
Mar 29, 2021
Baking
- Povitica
- Dark Chocolate Orange Ganache
- Swiss Butter Cream
- Macarons

Feb 1, 2021
Mar 22, 2021
Brick Masonry
- Project Drawing

Jan 28, 2021
Mar 23, 2021
Cabinetmaking

Jan 28, 2021
Jan 28, 2021
CAM (Computer Aided Manufacturing)

Jan 29, 2021
Mar 31, 2021
Carpentry - Individual
- Project Drawing

Jan 28, 2021
Mar 31, 2021
CNC Woodworking

Jan 14, 2021
Jan 14, 2021
Coding

Jan 29, 2021
Mar 31, 2021
Culinary Arts
- Culinary Arts Test Project (Secondary)
- Common Table (Secondary)
- Menu Requirements
- Menu Template - Module 1
- Menu Template - Module 2
- Proctor Document

Mar 2, 2021
Apr 9, 2021
Electronics

Jan 28, 2021
Mar 24, 2021
Fashion Design
- Blouse Pattern

Feb 2, 2021
Feb 3, 2021
Geographic Information Systems - Teams of 2

Jan 29, 2021
Jan 29, 2021
Graphic Design - Presentation
- Skills Ontario Logo
- Graphic Design Presentation Questions

Jan 30, 2021
Apr 12, 2021
Graphic Design – Studio Production

Jan 29, 2021
Apr 26, 2021
Hairstyling

Jan 29, 2021
Apr 26, 2021
Home and Team Building (Team of 2)

Jan 28, 2021
Jan 28, 2021
IT Network Systems Administration

Jan 29, 2021
Mar 31, 2021
IT Office Software Applications

Jan 30, 2021
Mar 31, 2021
Job Interview

Jan 29, 2021
Apr 30, 2021
Job Skill Demonstration
- Safety Plan

Feb 5, 2021
Mar 4, 2021
Landscape Design

Jan 28, 2021
Mar 23, 2021
Mechanical CAD

Jan 29, 2021
Mar 31, 2021
Photography
- Surprise Element
- Photography Q&A

Jan 30, 2021
Apr 18, 2021
Plumbing
- Practical Project

Jan 29, 2021
Mar 25, 2021
Precision Machining
- Tool List
- Material List

Feb 4, 2021
Apr 6, 2021
Prepared Speech

Jan 28, 2021
Jan 28, 2021
Refrigeration
- Bill of Materials
- Project Drawing

Mar 17, 2021
Apr 9, 2021
Restaurant Service

Jan 29, 2021
Jan 29, 2021
Robotics Scope (English)
Videos:

Disaster Rescue Challenge (English)
https://youtu.be/AoiCP531xAI

Disaster Rescue Challenge (French)
https://youtu.be/jEUUxVOk7EE

Log Cabin Challenge (Bilingual)
https://youtu.be/uqPHfZWwg00

- Robotics Scope (French)

Sep 25, 2020
Apr 12, 2021
TV Video Production

Jan 30, 2021
Apr 20, 2021
Web Design and Development

Jan 30, 2021
Apr 13, 2021
Welding
- Mild Steel Project

Jan 29, 2021
Mar 22, 2021
Workplace Safety

Jan 30, 2021
Mar 31, 2021